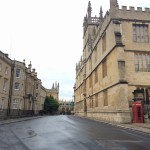 HIS/PHI 280- Oxford as Text  
Semester: Spring 2018 with travel in the first two weeks of July  and Spring 2023 with travel in June-July
Description: This cross-listed course will explore the role that Oxford, England has played in the intellectual, literary, philosophical, and religious history of the Anglo-world. From the origins of Oxford — one of the first European universities of the 12th century — we find a tradition of philosophical reflection on self, God, the world. How does a place serve as a catalyst for philosophical reflection, religious fervor, and creative imagination? From Roger Grosseteste, John of Salisbury, John Wycliffe, and the Oxford Reformers through Lewis Carroll's Alice and C.S. Lewis' Narnia, we uncover ideas, fantasies, life and death—all worlds emerging from a small midlands town on a tributary of the Thames.  We will explore how the microcosm of this university town has given birth to ideas with worldwide influence
We read a wide range of texts across disciplines to explore these ideas. This course, offered in the spring, will be based online with some face to face meetings during the spring term, followed by a two week stay in Oxford for a reading and study period in the last two weeks of June. This will offer you a chance to study in the very place where scientific ideas, intellectual and religious history, philosophical puzzles, and imaginary worlds meet.   We will also have the opportunity to visit some important sites in England, including Stonehenge and, of course, London.
In 2023 we offered this class for the third time. Unfortunately a bout of Covid prevented me from traveling but the group had an amazing experience with my co-instructor, Dr. James Blakeley..
Dr. J. Blakeley and Dr. W. Turgeon
Excursions:
–a visit to London
–Stonehenge
–Cotswold
–many adventures in the city of Oxford itself!
Visit this site on the history of Oxford.